PRECISION CAN BE MEASURED. SO CAN SUCCESS.
Extreme temperature fluctuations and aggressive media are the biggest challenges for metals. Products for flowmeter devices, filling level and pressure-temperature measuring devices must be able to withstand extreme conditions without any damage. Everything under control: Thanks to our many years of experience and our excellent technical equipment with high-tech production technology, we guarantee perfect processing results – down to the smallest detail, even for the most difficult tasks. In addition, KLINGEL medical metal in Pforzheim places the greatest importance on the cleanliness and sturdiness of the components it manufactures. Therefore, quality officers are also always on the safe side.
We manufacture a wide range of sensor cases and other components for measuring and control technologies.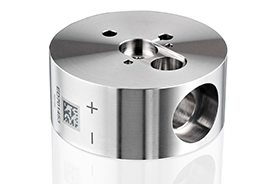 We would be happy to present our technical range of services in the area of measurement and control technology. Please feel free to contact us. The experts of KLINGEL medical metal will be happy to assist you at any time.