Three intensive trade fair days at Medtec Europe
The workflow in the various departments of the Pforzheim precision technology company was visualized to the visitors at the booth with corresponding exhibits, technical publications, brochures, presentations, videos and VR headset with a virtual 360° company tour. On the third day of the trade fair, mayor Peter Boch was among them; as the chief executive of the company Wirtschafts- und Stadtmarketing Pforzheim (WSP), he also stopped at its joint booth, the Cluster Hochform. He was accompanied by business development liaison Reiner Müller. Almost 600 companies in total presented technology and service solutions for use in the medical technology industry in the two exhibition halls. Managing director Christoph Lenze was satisfied with the response. "On all three days, especially on Wednesday, interested visitors came to us with specific project inquiries, which we will now have to deal with promptly. Especially young start-ups with interesting business ideas can best be reached via personal contacts at a trade fair."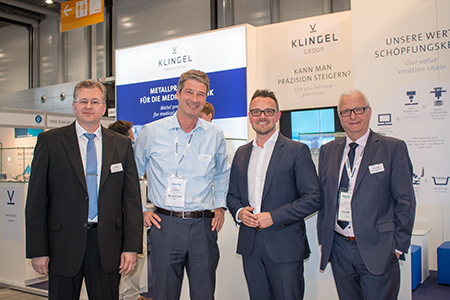 Starting from the left, the picture shows the head of order processing Michael Ackermann, managing director Christoph Lenze, mayor Peter Boch and business development liaison Reiner Müller.